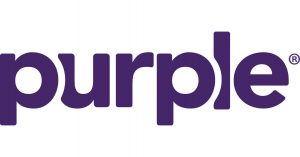 Investment Thesis
If $600 million market cap mattress maker Purple Innovation, Inc. (NASDAQ:PRPL) can penetrate 5% of the $32.6B global mattress market, the stock can increase in value by at least 3X (~$32/share) in the coming years based on my projections of:
$1.6 billion revenue
$114 million operating income (conservatively assuming 7% EBIT margin, which is lower than sector median's 7.33%, and competitor TPX's 11%)
15X Price/EBIT multiple
Currently, Purple has about 1% of the global mattress market share. In the TTM, Purple generated:
Revenues of $382.5 million
Operating income of $8.3 million
Operating cash flow of $21.6 million
So, how does Purple grow from 1% market share to 5%?
In this article, I will bring you up to speed on Purple and its business, highlight its competitive advantages, and outline how they can grow from 1% market share to 5%. I will also touch on key risks that I am monitoring.
Company Overview
Purple Innovation, Inc. (NASDAQ:PRPL) was founded in 2010 by brothers Terry and Tony Pearce.
The Pearce brothers are knowledgeable engineers and businessmen with decades of experience. Tony is a rocket scientist, and Terry is a mechanical engineer.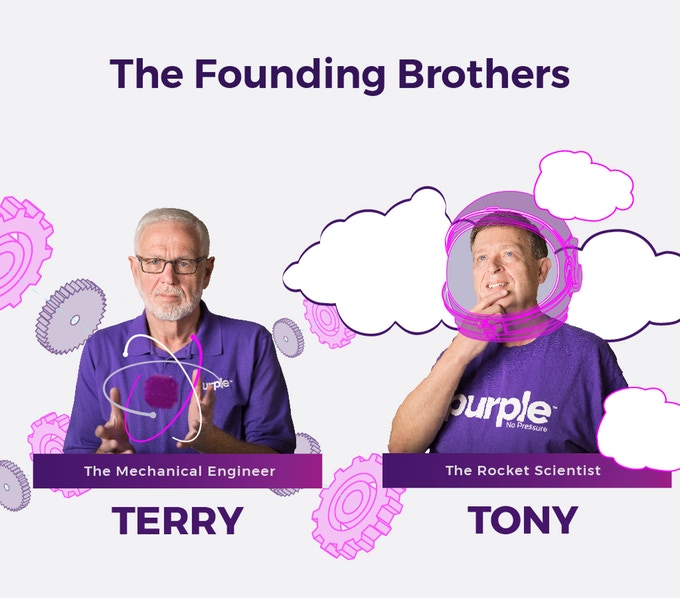 In the 90s, the Pearce brothers invented a gel cushion fluid called Floam that was used by numerous companies across a variety of industries. Hill-Rom used it for their medical beds. Nike used it in their shoes. Johnson & Johnson used it in their ankle and knee braces. Top-Flite used it in their golf bag straps.
Later, the Pearce brothers expanded the application of this technology to bedding with a new invention called hyper-elastic polymer, and began selling mattresses in 2016.
No IPO
Purple did not have a formal IPO. Instead, they became a public company through a reverse-merger with GPAC in 2017 when GPAC acquired Purple for $1.1 billion in cash and equity. The entity's name was changed to Purple Innovation, Inc.
Securities: A shares, B shares, Warrants
Purple's stock trades on NASDAQ under the ticker symbol PRPL. When you buy PRPL on NASDAQ, you receive Class A Common stock. As of November 5, 2019, there were 10,521,612 Class A Common shares.
There are also Class B shares. Purple issued 44M shares of Class B stock to InnoHold as compensation for the 2017 business combination. As of November 5, 2019, there were 43,365,879 Class B Common Shares. Only InnoHold can receive Class B shares, and they can be converted to Class A shares.
Purple also has warrants that trade OTC under the symbol: PRPLW.
Business Model
Purple designs and manufactures mattresses and other comfort-related products in Utah through their leased manufacturing plants. A proprietary machine called Mattress Max helps Purple produce their distinctive mattresses at a sustainable cost.
How Purple distributes and sells its products
Direct-to-consumer (DTC) through the company's website.
Online marketplaces such as Amazon.
Traditional retailers. As of Q3 2019, Purple's products were in 1,400 retail locations including Mattress Firm (Purple is in 800 out of 2,500 Mattress Firm locations), Macy's, Bloomingdale's, Furniture Row, Home and Bed Bath & Beyond.
Purple-operated retail stores. They currently have 3. They plan to expand their footprint to gain more product exposure.
Growth Strategy
Purple grew quickly over the past 3 years selling beds-in-boxes directly to customers online. They cemented their spot as a leader in the online space along with Casper, who started in 2013.
But mattresses are inherently a product that consumers want to feel and test in person. With Purple's DTC channel growth increasing just 10% Y/Y in Q3 2019 (overall net revenue still increased 66%), the next step for the company to continue growing rapidly is to implement an omnichannel approach, and physically place their products in brick-and-mortar stores and showrooms.
To lead this initiative, Purple hired Joe Megibow as CEO in 2018. Megibow notably helped American Eagle Outfitters develop their $550M DTC business as Senior Vice President and Chief Digital Officer from 2012 to 2015.
Market and Industry
The global mattress market is $32.6 billion dollars, and is projected to grow at a 7% CAGR over the next 4 years. This rising tide will help lift Purple as well as industry peers over time. (It also makes my projection of Purple capturing 5% of 2020 market share rather conservative in the long run.)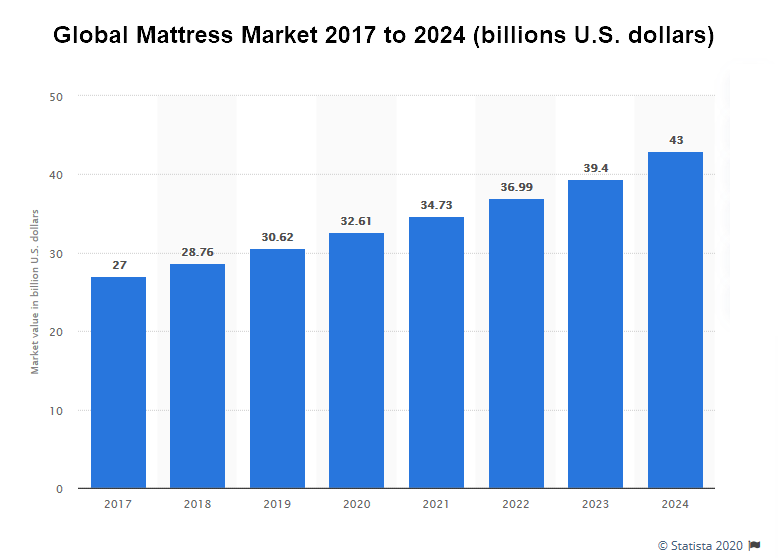 There are hundreds of mattress companies. 175 of them alone are online, of which Purple is one of the leaders.
Why are there so many mattress companies?
Simple: mattresses are high-margin products. For instance, a $3,000 mattress may only cost about $300 to manufacture. So even though the average consumer only purchases a mattress once every 8-10 years, making 10x your money selling a mattress is more appealing for entrepreneurs than selling, say, groceries for marginal 2% profits.
Most mattress companies outsource their production to the same four manufacturers. In fact, a company called Carpenter manufactures mattresses for 40% of the entire industry, including Tempur-Sealy.
Companies with the largest market share include Serta Simmons (who merged with Tuft & Needle in August 2018), and Tempur-Sealy.
Purple currently has about 1% of the market share. Based on my analysis, I believe that capturing 5% is a very feasible scenario for Purple.
Tailwinds
In recent years, breakthrough books like Why We Sleep have led to a cultural shift in people's attitudes about sleep. In general, people are becoming more conscious of 1) their sleep habits, 2) the benefits of sleep on performance, and 3) the consequences of not getting proper sleep each night. Compared to previous generations, the current generation is way more educated on the necessity of proper sleep to maintain health and peak performance.
This cultural shift in regards to people's attitudes about sleep bodes well for mattress companies like Purple, because people who normally would have opted to purchase a cheaper bed may be compelled to invest more–and Purple offers a high-quality solution at a compelling price point.
Purple's Competitive Advantages
In such a fragmented and competitive industry, what differentiates Purple? I have identified 6 key competitive advantages that Purple wields:
1. Purple is able to produce high-end products at lower prices than competitors, while still turning a profit.
The original Purple mattress is about $1,000 for a Queen size. According to the company and satisfied customers, Purple's mattress quality is comparable to a mattress that is priced at $5,000. While that is objectively up for debate, there is no doubt that Purple manufactures a quality product at a compelling price.
Purple is able to pull this off because its innovative founders created and patented 1) proprietary material and 2) proprietary machinery.
(1) Proprietary Material: Hyper-elastic polymer laid in a grid helps create the feel of a high-end bed while being cheaper to produce, which means Purple can offer their mattresses at lower price points while still being profitable.
(2) Proprietary Machinery: The Mattress Max machine helps manufacture Purple's beds efficiently, keeping costs of production sustainable and scalable.
Moving forward, this will enable Purple to grab market share from high-end competitors with more expensive offerings, while denying unprofitable competitors from penetrating the market further.
Since Purple manufactures its own products in-house, they have more control and response time compared to many of their competitors who outsource their manufacturing. They also have more skin in the game when compared to outsourced manufacturers, who are essentially neutral parties willing to serve everyone and their competitors.
2. Innovative capabilities at the founder level
The Pearce brothers are both experienced engineers with proven track records of success. The previous iteration of their gel technology in the 90s was used in a variety of industries by companies like Nike, Hill-Rom, Johnson & Johnson, and Top-Flite.
Having two innovative founders is a huge advantage for the company, as I highlighted in point 1.
It's also clear that Purple's technology can be applied to other products besides mattresses. (e.g. seat cushions, insoles.) So while many investors are currently fixated on Purple's global mattress market opportunity, it's likely that the Pearce brothers will continue to drive innovation over the years in other comfort categories beyond just mattresses.
3. Unique, differentiated design -> customer curiosity.
Purple is the new kid on the block with a unique and fresh take on an old, boring product.
Unsurprisingly, consumers are curious to try Purple's products because of how unique they appear. When I went to demo Purple's mattresses at a local showroom, many of the competitors' mattresses were pristine as if they were mostly untouched, while the Purple mattresses had clear signs of significant use and testing from browsing customers.
While trying is not the same as buying, Purple's quick ascension in the online mattress space and continued high growth rate suggests that customers are indeed finding themselves surprised at the comfort offered by Purple's grid design and voting with their dollars.
4. Strong branding, viral marketing
Purple's eye-catching brand colors stand out in furniture stores and showrooms amongst competitors' products.
Also, Purple's marketing campaigns are viral, compelling, and interest-piquing. I noticed during my research that many competitors' ads spend their time making fun of Purple's ads, which ironically only drives more consumer curiosity about Purple.
Purple's YouTube channel has over 767 million views. In contrast, Tempur-Pedic's YouTube channel has only 9 million views despite having been on YouTube for nearly a decade longer than Purple. This is significant considering TPX is nearly a $5 billion company, and Purple is only at $600 million.
Casper, who enjoyed a one year head start on YouTube, only has about 61 million views.
In my view, these YouTube metrics are a solid indicator of where the market's attention is, and a lot of attention is on Purple.
5. Small Market Share = Plenty of Room for Growth.
Purple only started selling mattresses in 2016, which means most of their addressable market ($32.6B in global mattresses alone) doesn't own one of their products, yet.
In other words, the market is wide open for Purple; the company has everything to gain and little to lose. In contrast, an older player like TPX who has spent years growing their market share has plenty more to lose.
6. Simple product offerings
Some mattress companies offer too many options. This creates layers of convolution and friction, increases costs, and invites product-cannibalization. Consumers can get overwhelmed by too many choices.
In contrast, Purple's offerings are limited, simple, and effective. For most people, one of Purple's mattresses will suffice without having to sift through the extra bells and whistles of another company's offerings.
Key Risks
No investment comes without risk, and PRPL is no different. While I noted many risk factors during my research, these are the main risk factors that concern me as a shareholder.
Purple will probably require more capital to expand fast enough.
Throughout 2018, Purple struggled to keep up with demand, which led to a significant backlog. By Q1 2019, Purple eliminated that backlog. But their inability to keep up with demand led to higher-than-industry-average cancellations and returns in 2018.
Although Purple is profitable and their September 2019 balance sheet had $31.3 million cash, it is my view that this is not enough dry powder to expand as rapidly and significantly as growth investors would like.
As Purple expands from DTC to omnichannel, demand will surely increase. And with the business bigger than it was in 2018, Purple cannot afford to fall behind on production.
I may be wrong, but Purple will probably require more capital, or even a partner (as has been occurring in the industry in recent years) to expand fast enough. Barring a strategic partnership, debt may be preferable to diluting current shareholders, especially since the company is profitable and the business model is scalable.
Mattresses are discretionary purchases
Mattresses are discretionary purchases, so the state of the economy matters. A recession can chop sales by a fifth over the course of two years and tank a company's stock price, as shown by TPX during the 2007 Financial Crisis: TPX logged ~$1 billion sales in 2007, but only $831M sales by 2009. (The business did return to growth by 2010, though.)
Volatile Stock Price
In general, mattress stocks are highly volatile, and PRPL is no different. The stock traded as high as $13.90 intra-day on March 12, 2018, and as low as $4.20 in April 2019. While the stock is currently in a bullish trend and around $11/share, I would not be surprised to see the stock significantly lower during my holding period.
While many investors are scared of volatility, I personally do not see volatility as risk due to my investment philosophy and strategy, and instead see volatility as an opportunity to average in at multiple price points on the way to the terminal scenario.
Conclusion
In a crowded mattress industry, with hundreds of companies selling similarly-designed products, Purple stands out with its unique, fresh take on an old, boring product. Competition will have a tough time defending their market share against Purple's uniquely-designed yet practical and compelling products.
Their patented purple grid design and manufacturing process, viral marketing, and small market share as a relatively new company gives them unique competitive advantages that will drive growth for years to come, and help them grow from a $600M company to a $1.7B company.
While success is not guaranteed, I don't see competition being able to stifle Purple's growth, regardless of how big they are. Purple's brand is too strong, its marketing too powerful, and its products too compelling to be denied. The only choice is to compete and watch your market share disappear, or merge/acquire.
While time frame specifics are difficult to nail down, my initial analysis at this time makes me confident that Purple has what it takes to capture 5% of the $32.61B global mattress market. This is a very conservative assumption considering that the market is growing at a 7% CAGR to 2024, and Purple is not just a mattress company. (Casper even suggested a $432B "global sleep economy" in its recent prospectus, but I prefer to use the most conservative assumptions in my valuations.)
If PRPL can capture 5% of the global mattress market, it should easily justify a price per share of ~$32 from today's ~$11.
For many investors, it is easy to underestimate Purple. The mattress game is a cut-throat industry with hundreds of competitors; indeed, I almost passed on the idea myself. But after further analysis on the industry dynamics, unit economics, and Purple's competitive advantages, I see asymmetric risk-reward here. Since the stock would be worth significantly more if the company increased its market share by only an extra 4%, I see PRPL as a worthy of investment in a long-term growth portfolio.
By no means do I expect the several-year ride to be a straight path up. In fact, despite the recent run-up in shares, I expect plenty of volatility in the future, and occasional growing pains. However, I see Purple as a company that is here to stay.
For these reasons I have begun accumulating shares of PRPL.
Disclosure: I am long PRPL. This article expresses my opinions only, and is not to be misconstrued as investment advice, research, or a recommendation to buy or sell stock. The information contained herein is only as current as of the date indicated, and may be superseded by subsequent market events or for other reasons. Nothing contained herein constitutes investment, legal, tax or other advice nor is it to be relied on in making an investment or other decision. For more information, refer to the Terms of Use.
Updates Since Original Publishing
$PRPL founders cash out and ride off into the sunset. If I were them, at their age, with the pandemic going on, with the stock having gone that high, I might have done the same thing. The company will be fine under Megibow & team, and all systems are in place. Still long from $9

— Paolo Magaan (@PaoloMagaan) September 15, 2020
$PRPL Buying that March/April valley hand over fist, even disposing of other holdings to max out this position has paid off. That conviction would've been impossible if I had not done my due diligence & had an investors' mentality. The trader I was yrs ago would've never did this pic.twitter.com/oEeflM8vOR

— Paolo Magaan (@PaoloMagaan) May 12, 2020
Nice–got $PRPL $7.55 limit filled before the circuit break this morning but did not get my $7.21 which I have now dropped under $7. Maybe we can get $6.60 tomorrow? These are all extremely good prices in value territory now.

— Paolo Magaan (@PaoloMagaan) March 12, 2020
Picked up more $PRPL shares here in the low $11s, and have a bid mid-$10s. I don't play short-term earnings games with my long term positions, but $PRPL has momentum going into ER afterhours as they have been expanding their physical footprint, so let's see how they did.

— Paolo Magaan (@PaoloMagaan) March 9, 2020
Only got 1/3 position in $PRPL at $10.88 cost avg. Stock up 21.3% since my purchase and article. I believe I'll get a chance to buy it lower again on any execution hiccups. But am willing to average up if that doesn't occur. Waiting it out.

— Paolo Magaan (@PaoloMagaan) February 7, 2020