Things are moving fast for New Jersey's MamaMancini's (MMMB) since I first wrote about the stock a month ago, back when it was dipping under $0.40 a share. This morning the stock hit a high of $0.82 a share, a 105% gain in a little over a month. But this is hardly the time to ring the cash register. There's still a lot more upside to come.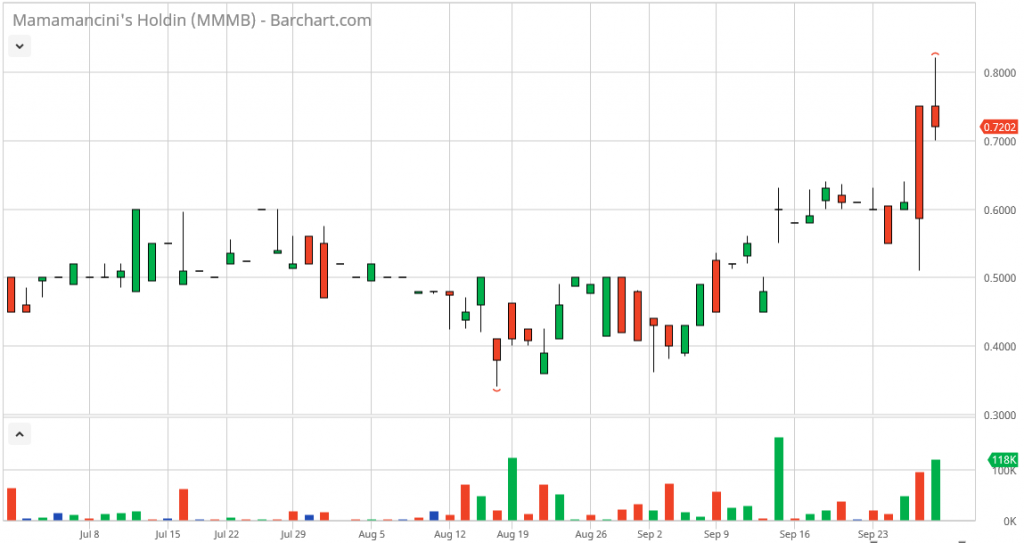 Reason for today's move: Partnership with Beyond Meat
Today, MamaMancini's announced a partnership with plant-based meat producer Beyond Meat (BYND). Beyond Meat has been one of the hottest IPO's of this year, outdoing the likes of even Uber-competitor, Lyft, and Zoom. I didn't buy Beyond Meat's stock because shares were highly expensive despite the company still being unprofitable. However, MamaMancini's shares are the opposite–they are undervalued and the company is profitable.
From the company's press release today:
MamaMancini's customers nationwide will have the opportunity to experience the world's first plant-based ground meat, that delivers on the versatility, meaty texture and juiciness of ground beef, while enjoying the nutritional and environmental benefits of eating plant-based protein products. New products will include "Beyond Beef Meatballs & Sauce" in several sizes, as well as vegan and gluten-free based "Spaghetti and Beyond Beef Meatball Pasta Bowls".

MamaMancini's expects to begin introducing the new line in several markets throughout the United States beginning immediately. Currently, MamaMancini's products are sold at 45,000 locations in food retailers across the country and in the second fiscal quarter of 2020 ending July 31, 2019, MamaMancini grew its sales by 44% to $8.1 million.

"Plant-based meat is one of the fastest growing trends in the food industry, and Beyond Meat is leading the revolution," said Carl Wolf, Chairman and CEO of MamaMancini's Holdings. "Beyond Beef was the perfect choice for our new bowls as it offers the same juicy, meaty texture as beef, with the benefits of plant-based proteins. Our partnership will expand our current line of healthy products and enable us to penetrate new markets with customers looking to expand their protein options."
Recent Video Interview with CEO Carl Wolf
Aside from the press release issued today, MamaMancini's CEO, Carl Wolf, also spoke to Proactive Investors' Christine Corrado about the company recently. Video below:
In the video, which was posted yesterday, Carl gives color on the process and logistics behind the company's fresh-made pasta bowls, plans for plant-based products, customer input and reception towards those plant-based products, specific growth opportunities with big supermarkets, and what investors should look out for in the coming quarters.
Corrado also touched on Carl's previous success at Alpine Lace, a cheese manufacturing company that Carl grew and then sold to Land O' Lakes for a hefty premium. Carl then talked about the importance of maintaining quality and being in high-margin opportunities.
Valuation: Where is MMMB headed next?
MMMB's current TTM PE ratio is only 16. But this is a very inappropriate valuation for the stock because MMMB is growth stock with plenty more markets to capture, not some mature global company that has already achieved all of its market potential. A 16 PE implies that MMMB is a mature company with zero growth left, and that is not the case.
The reason MamaMancini's market valuation is so way-off-the-mark is simple:
MMMB is a micro cap, so it's flying under everyone's radar.
Investors incorrectly perceived MMMB's growth days to be over, because they saw sales beginning to slow down metrically, but did not dig in deeper to understand the story behind the numbers.

What really happened during the low growth phase was that MamaMancini's was focusing their resources on boosting their manufacturing capabilities to better handle the upcoming demand of their next leg of growth and expansion, which caused sales to lag temporarily.

Investors were so used to seeing 40%+ growth that when it stopped happening, they sold the stock off.

But as you can see from the last quarter ended July 31, 2019, MamaMancini's is now back to high growth mode, as evidenced by the 44% sales growth. So the PE ratio doesn't reflect the true earnings capability of the company.
MMMB's PE ratio should better reflect its status as a growth stock, and I believe the market will eventually come to place that appropriate valuation on MMMB as the company continues to prove itself and win back investors. Partnering with Beyond Meat is certainly a huge step in the right direction. More impressively, this press release is not just fluff talk: MamaMancini's is rolling out the new line of plant-based vegan products immediately.
So I still see plenty of upside left for MamaMancini's stock over the coming months and years as investors re-orient themselves.
Disclosure: I am long MMMB. This article expresses my opinions only, and is not to be misconstrued as investment advice or a recommendation to buy or sell stock. For more information, refer to the Terms of Use.