Warren Buffett and Charlie Munger created the mental model known as The Circle of Competence. It was designed to help investors make better investment decisions. However, you can also apply it to other areas of your life in order to be more efficient.
There are 3 parts to the Circle of Competence: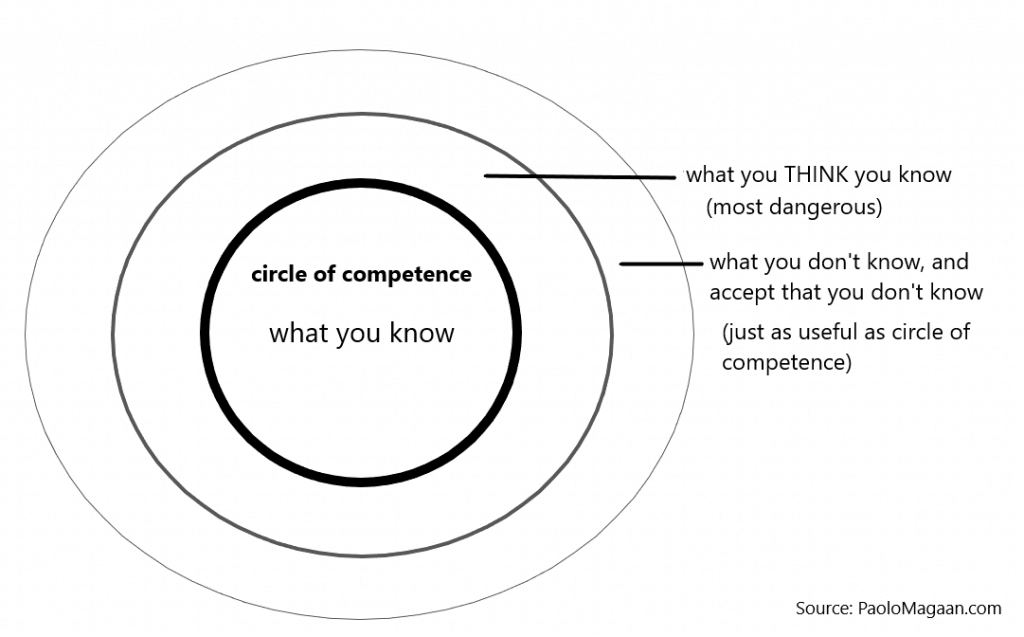 Circle of Competence: What you know and understand. You should always aim to operate within your Circle of Competence, because that is where your efforts will yield the highest reward.
Middle Circle: What you think you know, but actually don't know. This circle is the most dangerous of all. You will make most of your worst mistakes here. Overconfident people have lost countless fortunes have been lost because they thought they knew what they were doing, but didn't. (See Dunning-Kruger Effect.)
Outer Circle: What you don't know, and accept that you don't know. Being aware of what you don't know is just as important as what you do know.
The Science of Hitting
In Warren Buffett's HBO Documentary, Becoming Warren Buffett, the iconic investor compared the Circle of Competence in investing to the Strike Zone in baseball.
Inspired by Ted Williams' book, The Science of Hitting, Warren Buffett saw similarities between baseball players and investors. Baseball players can increase their batting average by only swinging at pitches in the center of their strike zones. Similarly, investors can increase their investment returns by being choosy. For Buffett, this meant only making investments in quality companies that he could understand well-enough to appraise accurately.
How to Find Stocks In Your Strike Zone
Identify the businesses and investment situations you are most knowledgeable about. If you are not knowledgeable about anything, then either (a) educate yourself (see the section below on Expanding Your Circle of Competence) or (b) find a trustworthy professional to do your investing for you.
Whenever you come across an investment idea, determine if that idea falls within your circle of competence. If it doesn't, move on to another new idea, even if everyone else is raving about it. The worst thing that can happen to you as an investor is to make money in something that you didn't understand. That's because you will be tempted to continue that behavior in the future, and it will eventually cost you what you won the first time, and more.
After you have covered all investment ideas within your circle of competence, focus on trying to expand your circle.
You can avoid mistakes of ignorance by passing up on businesses and sectors you are unfamiliar or uncomfortable with. By being selective, you increase the odds of generating a high-quality, high-conviction idea.
Warren Buffett also reminded fellow investors that investing–unlike baseball–is a game with no-called strikes. Investors can listen to a thousand business pitches and say no to all of them if it's not in their circle of competence. This is a luxury that should be exercised more often in today's hyper-reactive markets.
It is normal to go through hundreds of stocks without finding a single good idea. Warren Buffett notably has a "too hard" pile on his desk. This gamifies the process of saying "no" to an investment idea, because you can visually see that you are doing work, even if your research for the day fails to yield any actionable ideas. This strategy can help keep frustration at bay.
How to tell if a stock is in your circle of competence
When a stock is in your circle of competence, you should be able to:
Read the annual reports and company filings without getting frustrated due to not understanding the jargon or how the business works.
Judge whether management is making good business decisions without the input of another analyst.
Visualize the company's most likely end game, estimate terminal cash flow, and put a price on it.
Fathom ways to "kill the business." For example, you are able to spot weak points in the business model, or gaps in the wall where competitors and technology might be able to penetrate and take away market share.
Enjoy the process of analyzing, valuing, and keeping tabs on the company.
If you can't do all of this, then the stock is NOT in your circle of competence. When this happens, just move on. You will save yourself a lot of grief by doing so.
The 50 Percent Question
In addition, there is a question I always ask myself before I buy a stock:
If this stock declined by 50% immediately after I bought it, would I be willing to buy more of it?
This question cuts right to the heart of the matter: either you're confident about your research or not; either you have conviction or you don't.
When I ask this question with a stock that is not in my circle of competence, I can actually feel my stomach wrenching at the thought of losing money on a stock that I'm not really comfortable with.
But when I ask the same question about a stock that is within my circle of competence, I always have a feeling of, "I would love it if the price dropped 50 percent; I would back up the entire truck! I wasn't planning on selling a single share until 5 years from now anyway!"
For me, this is a powerful gut indicator that I am onto something. When I don't feel this way about a stock, I know that my research either wasn't thorough enough, or that I'm simply not operating within my circle of competence.
Expanding Your Circle of Competence
No one is born with a circle of competence. Everything we know is learned from or inspired by others.
Here are ways you can build and expand your circle of competence:
Study financial history. Knowing history is a form of experience in itself. It allows you to learn from the mistakes of others and understand how the present came to be. The best thing about studying history is that you don't have to wait years to learn the outcome of a particular course of action; you can just look ahead and find out.
Read annual reports. By the time you study the annual reports of every company in an industry, you will undoubtedly know more than a thing or two about that industry.
Watch documentaries, videos, and movies. Reading isn't enough. You need be able to visualize what you're studying. I often go on YouTube to watch videos made by employees and management on their day-to-day business operations, conferences, and interviews. To better understand Tulip Mania, I watched a movie called Tulip Fever in addition to reading about it in books and on the internet.
Read business/ trade magazines. Even though they cost money, the condensed and curated content is often worth the price.
Go to places of business and ask questions. Warren Buffett notably took a train to GEICO's headquarters to learn more about the business.
Browse the internet. 9 times out of 10, there is enough information on the internet through your broker, the company's website, and the SEC to make a decision about a stock. In addition, you can find sites like mine that contain stock research, as well as crowd-sourced analysis/commentary sites like Seeking Alpha.
What Happens When You Don't Stay Within Your Circle of Competence
When you invest in a stock that isn't in your circle of competence, bad things can occur as a result.
First, you might end up losing money because of something you missed in your research.
Second, you tie up capital and time that could have been used for a better idea.
Third, you don't enjoy tracking the company because you don't really understand what's going on.
My advice: Don't waste your time on stocks that aren't in your circle of competence. There are millions of businesses in existence, and tens and thousands of stocks out there to choose from.
Quotes on Circle of Competence
Here are a collection of quotes about sticking to your circle of competence:
"You have to be an expert in what you invest in. You need to understand why you are invested. If you don't understand why you are in a trade, you won't understand the right time to sell, which means you will only sell when the price action scares you. Most of the time when the price action scares you, it is a buying opportunity, not a sell indicator."

Martin Taylor, British investor
"Knowing you don't know something is nearly as valuable as knowing it. The worst situation is thinking you know something when you don't."

Ray Dalio, founder of Bridgewater Associates and one of the world's 100 wealthiest people.
"You don't have to be an expert on every company, or even many. You only have to be able to evaluate companies within your circle of competence. The size of that circle is not very important; knowing its boundaries, however, is vital."

Warren Buffett
"If we can't find things within our circle of competence, we won't expand the circle. We'll wait."

Warren Buffett
"If you have competence, you pretty much know its boundaries already. To ask the question [of whether you have overstepped your circle of competence] is to answer it."

Charlie Munger
"Most businesses that I look at are typically rejected within two or three minutes or even less. They are rejected in two or three minutes for one of two reasons – they are either outside the circle of competence or the quick look at the price, market cap and such doesn't make it interesting. They either are things that I don't understand or they are things that don't seem to be cheap by any measure that I would have an interest in."

Mohnish Pabrai, Buffett-inspired value investor, entrepreneur, and philanthropist.
"Circle of competence essentially comes down to whether we understand the business. There are several sub-questions under that: Do we know the right people in the industry? How well do we understand the products and customer's decision making process? Are there unanalyzable things that could have a big impact?"

James Chrichton, Hitchwood Capital Management.
"I'm only rich because I know when I'm wrong. I basically have survived by recognizing my mistakes."


George Soros